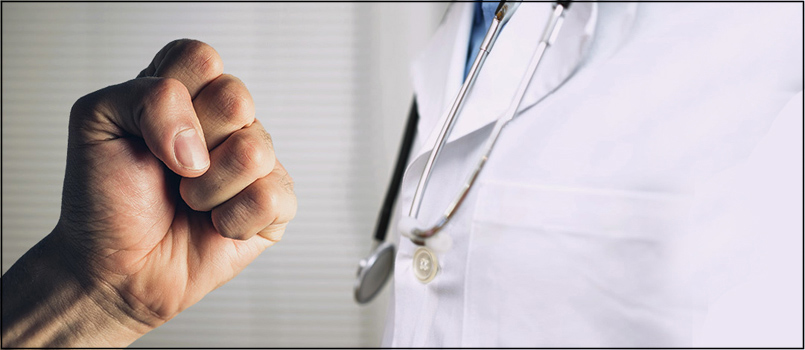 They say- TO ERR IS THE HUMAN... but I think it's not applicable for doctors..
An incident that happened recently in Pune is making me write this.. A 3 year old girl accidentally lost her life while going a RCT at a dental clinic. The media got an opportunity to raise their TRP'S; they declared the doctor as murderer & this ruling by media was without even knowing the facts.
It's not uncommon these days..Death of a patient in a hospital/dispensary and that's it..
Some opportunists nowhere related people will come over to do so called justice which includes physical abuse, destroying clinic as if the doctor has done it intentionally...I would like to bring to people notice that we are doctors & not God...even God have made mistakes isn't it...??? Few born deaf, dumb and with many such abnormalities...!!! How come people expect that doctor can produce results with every case... Human engineering done by God is sooo complicated that we are still trying to fully understand it...
To add onto it judiciary has included doctors into consumer act...
I don't understand; whether we are sellers or what??? If yes, then why so much of noise when this seller charges for selling his skills? At one end you say doctor should serve and then you only make him a seller... how can a doctor serve fearlessly with free mind if he would be under so much of pressure every time?
People need to understand that amongst thousand cases one case MAY go wrong... In one case results may come compromised... that doesn't mean that doctor has done it intentionally...
Can a doctor afford to do wrong intentionally?
I wonder if same principles can be applied to judiciary also when lower courts decisions and higher courts decisions contradicts each other...
Would you go to the consumer court for it...??? It's not possible right..?? Coz then judges won't be able to give decisions with fearless mind right...???
Same way doctors should also be exempted from this... not to go on killing people but to HELP THEM WORK MORE FREELY...FEARLESSLY...TO ENABLE THEM DOING WHAT IS NECESSARY THAN WHAT IS POSSIBLE... like they have shown in munnabhai na-" k form baad me bhara maamu; pehle patient ka ilaaj kar..."
This is not an excuse for non performance nor I'm telling doctors to play with patient's life..I am just asking people and media to ACT SENSIBLY.
Every doctor works for the well being of patient. If something goes wrong with the patient..then its the doctor who spends sleepless nights after patient's close relatives.
Which doctor won't like to have a smiling feedback from the patient?
Nothing would be gained from arguments & nasty behavior... It will just widen the rift between doctor & a patient... LET'S CO-EXIST...!!!
We will have to understand limitations of doctor too... HELP US TO HELP YOU MORE EFFICIENTLY...BALL IS IN YOUR COURT...!!!
"Where the mind is without fear & the head is held high…
Where the mind is lead forward by thee into ever-widening thought & action...
Into that heaven of freedom...
My father..
LET MY COUNTRY AWAKE...!!"
Previous
Next