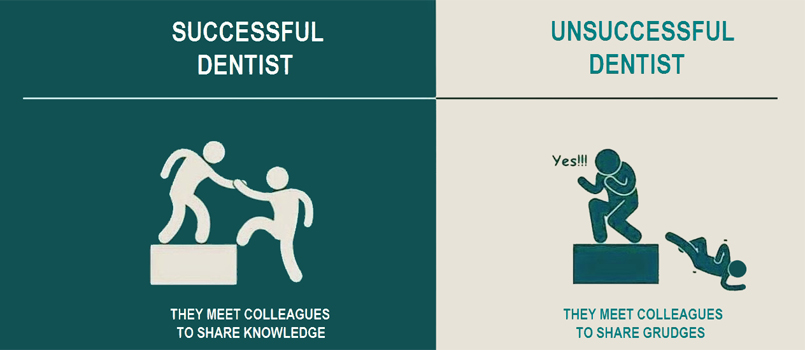 Dear All,
It is in almost every group or discussion forum, there is a discussion of fellow dentist criticizing/badmouthing the other in front of patients or ridiculing his/her work or charges. Unfortunately, in our profession, unlike hotel management students, we do not undergo a grooming school, and our work behavior is based on what we learnt in the clinic we did our observer ship. All of a sudden, from doctors we become businessman from the 1st day of our clinic opening. Though, not any expert or fault free, after 8 years of practice, I feel mature enough to share my thoughts to fresher who are about to start or recently got into practice.
1. Stay Focused:
Your practice doesn't grow 1% by bringing down someone else's name nor would the other practice go down even 0.5% with your fruitless efforts. Concentrate on your work.
2. Filter Unnecessary Talks:
Patients would love to share their bad experiences with previous dentist. Curtail those talks and stick to basics of chief complaint, followed by diagnosis and treatment plan.
3. Use Alternate Terminology:
Instead of telling the patient, "Bahot bekaar filling ki hai aapki" "Filling you are having is hopeless" modify your talks like, "There are some issues with the filling and hopefully I will be able to address them better."
4. Learn From Those Who Run Referral Practice:
Your oral surgeon doesn't tell the patient that you have messed up a 3rd molar extraction. He simply does it and sends the patients. He is even ready to bear the complications which you might have made. Treat patients from other clinics in a similar way.
5. Keep Your Charges Justified:
Sky has no limit, but ground has. Keep your charges for every procedure in a justified manner. Keeping them too low cannot kill your competitor. Moreover, you lose growth and clinical expansion.
6. Don't Be Overawed:
Meeting dentists from metros, don't be influenced by their lifestyle of Mercs and BMWs. It is just a part. You never know what they went through to achieve this, including legal battles and strokes. But they have the best lawyers and best hospitals to keep them running. So run a healthy practice and have patience.
7. Stay Connected:
Meet your colleagues to share knowledge not grudges or discuss charges.
8. Do Not Out Rightly Reject Fellow Dentist's Treatment Plan:
Everyone has his own way of thinking. If the other feels, his way would provide relief and long term solution, respect it. Be a doctor, not judge. Tell the patient, "I would or I can do it this way, please make a decision and chose your treating doctor."
9. Stay Alive:
Don't leave your hobbies. Cricket, music or dance or whatever, for me photography as a recent hobby, relaxes you so much that you, by default, stays away from unnecessary stuff. Don't leave them, rather inculcate one.
10.Take Care Of Yourself:
Dentistry is a killer. It will break your back and neck. Let it not break your heart by going green with jealousy.
As always, keep smiling!
Previous
Next