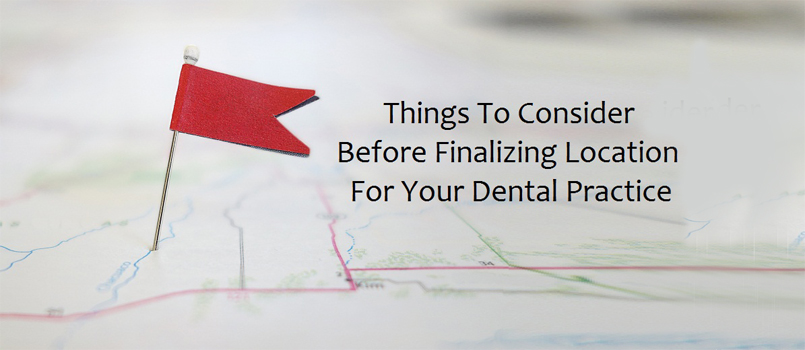 We've compiled a list of some important criteria that a good dental clinic location should have. We understand that there won't be many locations that scores well on all the parameters; so you should try to weigh in all the factors before taking a decision.
1. Location
Visibility & Accessibility
The clinic should be easily visible to passers-by so that they can remember it when they are in need of a dentist. A space with best visibility might cost you a little extra, but you can take it as your long term investment in marketing of clinic. Also, ensure that the space comes with ample provision for displaying required signage.
Your clinic should be very accessible with multiple transport options from across the city. It would be ideal to have a practice in the center of the city as long as it meets the remaining criteria. If you could get a location that needs as minimum time as possible to commute then nothing like it; as it will save your as well as the patient's time.
Neighborhood & Locale
A clinic is expected to be an absolutely clean place which stands for hygiene and good health. Adjacent and nearby shops, offices and hospitals play a very important role in building an early impression. Having hospitals in the immediate vicinity not only increases the number of referrals but also attracts patients who are looking for an expert opinion.
It is crucial to setup your clinic in an area that has a decent reputation among your target patients. Setting up a clinic in a substandard area could get your patients disinterested while setting up a clinic in a way too opulent location could keep your customers away thinking your services are too costly. You can use your consultation fees as a reference to help you determine the right area for your practice.
2. Demographics
Check for the Average Income, Age & Population of your demographics and make sure there is no shortage of the right audience in your area. The average household income of the population in the neighborhood will serve as a benchmark for you to decide your consultation fees. In case you are looking for a class practice then make sure that you set clinic in an upscale locality so that the patients could afford it. Based on your expertise make sure that your practice is situated between the right age group. For example, it would be a good idea to set up a pedo practice in a residential location instead of an industrial location.
Try to study & understand whether the population in that particular area has decreased or increased and if its composition is likely to change. It would be a clever move in the long run to set up a clinic in a location that has rapid growth potential.
3. Competition
Too many dentists in the vicinity with the same specialization can hamper your practice as the patients in the neighborhood have multiple options. Also, setting up a practice in the middle of established clinicians could mean that you have to put more time and efforts in order to create your own identity.
A healthy competition might help you to grow with competitive advantage, however you should take the decisions wisely..
4. Infrastructure
Exterior & Interior
The external appearance is one of the first things that gets noticed and makes an early impression which is followed by the interior. So make sure that the building looks descent externally and also you have enough space for waiting room, operatory and good ventilation.
We would advise to go for a relatively larger sized place than your current requirement. It will help you when your practice picks up and you want to accommodate one more dental chair, the extra space will come in handy or else you would have to do same exercise few years down the line.
Facilities
If your clinic is going to be in a popular location then make sure it has ample parking for visitors; inadequate parking space can turn off patients especially who drive a car. There won't be a need of an elevator for a clinic at ground floor, but otherwise there should be the facility or else you might lose out some geriatric prostho patients. It is very important to have a clean washroom for your patients; this will also be useful for patients who might constantly need a washroom.
It is very likely that you might not find a place that scores well on all of the above parameters,
but make sure that you make compromises wisely...
Cover Image Courtesy: Google Images
Previous
Next