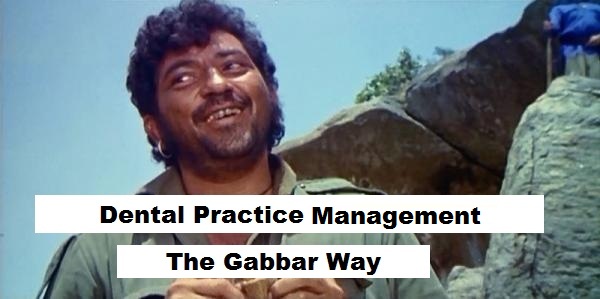 Gabbar Singh was a TRUE MANAGEMENT GURU as is reflected in some of the timeless management lessons he delivered through the movie Sholay. Friends these lessons can be used effectively in order to build and maintain a successful dental practice. Read On...They are awesome..!
1. Jo Darr Gaya - Samjho Mar Gaya!
Courage and enterprise are important factors for laying the successful foundation of a growth oriented dental practice. If you continue worrying about scenario of private dental practices then there are more chances that you will end up with problems. So it's better that you buckle up and get ready for some calculated risks, take things positively and look forward for opportunities.
It's important to know the competition and its size. He understood that even a small team can make a difference. When it comes to your dental practice make sure that you don't under-estimate other practitioners. When I'm saying this, it doesn't at all mean that you should pull others down, like most typical Indian's do but take the measures accordingly.
3. Arey O Sambha, Kitna Inaam Rakhe Hai Sarkar Hum Par ?
Know your market value. If you don't know your own value then there more chances that people will under value your capabilities. At the same time this can also help you in understanding how much investment you should do for promoting one's own brand.
Sometimes in the interest of your dental practice you may have to take hard and unpopular decisions. For example if you let your patients negotiate; you will find that bargaining has become a trend in your practice. So if someone tries to bargain unreasonably it's better to let that patient go to another dentist. It can be painful for you at that moment but it's better for your future.
5. Yeh Ramgarh Waale Apni Betiyon Ko Kaunsi Chakki Ka Aata Khilate Hai Re..
Market research is important to understand value propositions!! Spend some time on what is trending in and around your dental practice. For example if your neighbouring dentists have started using an RVG from 5 years and you are still stuck with the conventional development films or people have started using Practice Management Software and you still using the pen and paper then it's not a good sign for your practice.
6. Yeh Haath Mujhey Dedey Thakur.
Identify elements of threats in the market and take measures to minimize them. For example if you get to know about quacks doing unethical practice or even dentists who are misleading patients by putting abbreviations such as MIDA, MADA which are not any degrees and deteriorating the standard of dental profession then don't wait for somebody else to complaint.
7. Holi Kab Hai, Kab Hai Holi ?
Conduct advance mapping of key events within the industry and devise penetration strategy to have a competitive edge over your rivals. Always and always continue learning, look for all the dental events happening around you such as dental conferences, courses, workshops and try to attend them as per your needs and suitability.
Friends, I don't know if you are aware about the term YOLO i.e. "You Only Live Once".. We all have got one life so let us learn and adopt these principles and practice like a Gabber!
Previous
Next