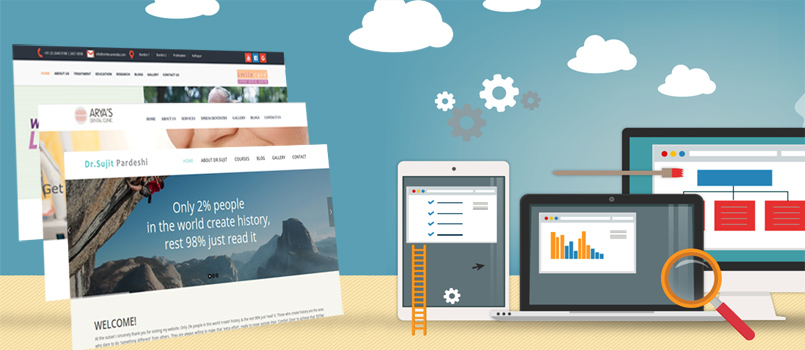 Trend

In India the internet users are increasing exponentially. According to a report by "Internet Live Stats" (Feb 2015) India is the 3rd largest nation by internet usage after China & US. A large number of Indians use the Internet to search for health information, and among them, good number of users specifically look for healthcare providers. In such scenario are you noticeable enough?
Get Noticed

In this "Information Age" not having a website is equivalent to not having a phone. Website adds convenience to your practice. People use Internet often trying to get quick answers to some basic questions such as "What are your working hours? What is your contact number or email address? Do you offer payment plans?" etc. Somewhen, someone is going to Google your name or practice. What do you want them to find?Nothing?
Cost Effective

When you compare the price of a website to the expense of creating and distributing the conventional forms of marketing materials, like brochures, pamphlets, direct mail campaigns and magazine ads- the cost of setting up and maintaining a Website is nominal.
Convenience

When you have a website your practice is open to the World 24/7, 365 Days a Year. Your existing and prospective patients lead busy lives. Having the ability to ask questions, schedule appointments and learn more about your practice online extends convenience to patients as well as dental office staff.
New Horizons

You don't have geographic restrictions with website. You are searchable from any corner of the world. If you have well crafted website then your chances of getting international patients are increased.
Reputation

Review about your dental practice by your existing patients plays an important role in getting the prospective patients. A positive feedback (review) by your patients helps you to build reputation of your dental practice.
Information

One of the advantage of a website is that you can quickly and easily edit information as it changes unlike printed materials that need to be revised and then reprinted at cost; a Website allows you to change or add services as often as you wish in just a few steps.
Competition

If you are in direct competition with another practice that has a Website, they have a clear advantage - especially if they are marketing their website adequately.
Patient Class

The class of patients coming to you through the website is obviously going to be well educated and probably can give you more referrals.

If you do not already have a website; should get one as early as possible because search engines will consider age of your practice from the day you started your website and not your the practice.

Previous
Next