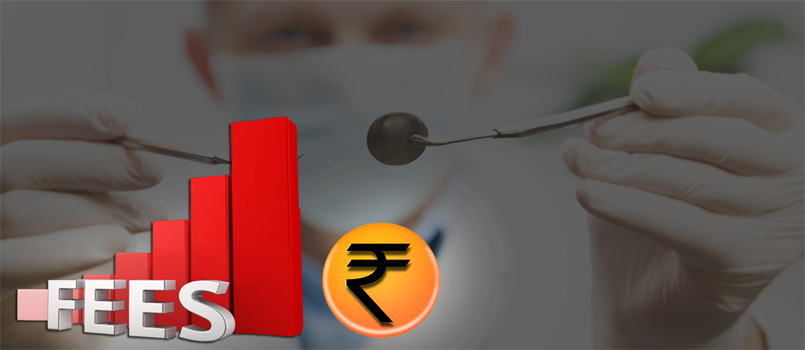 If we want to raise charges, first we have to accept that we are cheaper. But have we tried to find anytime that why we are cheaper ? I would like to elaborate points:
1. We are really cheaper.
If we want to raise charges, first of all, we have to accept that we are cheaper. But have we tried to find any time that why we are cheaper?
Here are some reasons.
a) Everyone amongst us had decided our treatment charges on the basis of charges taken by dentists of our area whenever we opened a clinic. We never calculate and to gain more patients we actually we're a little bit reasonable than senior dentists. If we are taking optimum charges then our next generation will never blame us.
b) Any dental treatment charge should be according to our Investment on education (applicable to current decade of dentists), investment on dental clinic equipment, materials, technologies, maintenance, furniture, laboratory charge etc
+
Most important is TIME (Your actual income per hour)
+
SKILL Charge if you really wanted to add but none of us are counting treatment charges in this way.
What we are currently taking only fulfills our maintenance and depreciation. No profits.
c) We always count charge according to laboratory charge or material charge.
Friends, we are a skillful person, not a trader. Whatever is your lab or material charge but you should always charge for your expertise, skill, efficiency and your mastery for your predictable results.
Have calculations and then decide treatment charges.
2. The scenario of all 3 decades is different.
a) Before 10 years Dentistry was simple and was much cost effective than today.
b) Today you must have a wonderful clinic in a good complex, good interior, good equipment, latest technologies, latest materials and good payable staff and doctors. So your net income actually falls if you count all these.
c) After 10 years we all need more fancy gadgets and equipment or materials. Might be everyone have to buy OPG or CBCT in group or CAD-CAM scanner which will again add drastic cost in your liabilities.
Keep in Mind
3. Inflation.
Everything adds 6-7% per year in itself and till we actually realize it, one more wave of 6-7% have been added. Only we don't bother to add it. The moment you open your eyes in bed and again at the end of a day you close it everything becomes costlier. Milk, newspaper, breakfast, petrol, car, maintenance, clinic staff salary, materials, equipment, lab charge, restaurant bills, shopping, school fees, groceries bla.. bla… Only we are humble and we don't raise per year.
4. Professional Hazards.
Those who don't have professional Hazards like Neck lesion or Back lesion after 10-15 years of practice, either they don't have practice or they are lying. Friends, once you will suffer from any professional Hazards in your body then you have to compromise your clinic by anyway. Till that time if you don't save enough money to expense for your future then you will be finished.
If you are thinking that after doing any management courses you will be able to manage your clinic in your absence, you are wrong. Others can never run your clinic more powerful than you. Save for future or emergency.
5. Be prepared for more number of dentists coming in next 10 years.
Today we are talking about competition but friends believe me competition is yet to come. 26000 dentists will share patients with us every year and so many of them will be consultants or experts in some field. Patients will choose their dentists wisely in next decades. Hold firmly your position otherwise, you will have to blame your luck.
6. Dentistry is the only branch in the medical field where we have daily maintenance.
Most of the other branches in the medical field have only one-time investment on hospitals and equipment and then they only earn, no major expenses.
We have daily bills and daily expenses added day by day and month by month. Till you buy one equipment or material, on next day something more beneficial will come and you need to struggle to buy that.
We need to attend repeatedly conferences, lectures; seminars and workshops or courses to learn new techniques or methods and believe me none of them are economical. Earn more to spend more and still, you are at same level unless you add more on earning side.
7. We have our inside enemies like Corporate Clinics, Trusts, Dental Chains.
Still, they are not that much but there will be lots and lots more to come and to make us cheaper and cheaper. Be unite and fight for survival.
8. To fulfill our family and our own expectations in life.
Everyone has some expectations in life like our parents, spouse, and kids and nothing is cheaper actually. If we don't earn we can't fulfill their expectations. Still, we have to fulfill our own expectations and don't forget we are living in the 21st Century where everything is becoming costlier day by day.
Start earning decent money and enjoy the life fully.
9. Dentistry has limited life span.
We have a life span of 25 years and only few survive till the end. Most of them achieve fantastic growth initially followed by sustain maintenance for few years and ups and downs in the last phase except only few branded clinic and I am sure this message is not for them.
So catch that decade wisely and save a lot for future.
10. Achieve your Dreams.
I have some calculations: (Actually, I Love Calculations.)
Any dentist in any city of India has some dreams. We assume that we do practice for 25 years and in this 25 years we need following things.
A. 2 BHK flat: 60 lakhs
B. Furniture in that flat: 40 lakhs (we need two times furniture in 25 years)
C. One small clinic in city: 40 lakhs
D. Furniture and basic equipped clinic: 40 lakhs (twice in 25 years)
E. Car expense: 30 lakhs (we assume we change basic car of 6 lakhs 5 times in career)
F. Child Education fees for one kid: 20 lakhs (we only count school and basic college fees, no donation in any major branch)
So total is 2.30 Crore.
If we count that everything is provided today on loan of average 10 percent for 25 years, means you don't need to buy anything in 25 years still your
Equated Monthly Installment (EMI) is 209000 and to earn a Net profit of 2.09 lakh you need to earn grossly 350000 INR month by month.
And still you have only basic property.
No fancy dream home.
No fancy dream clinic.
No higher education for kids.
No fancy shopping.
No fancy holidays or leisures.
No Jewellery.
No fancy Cars.
This is not to make anyone depressed but to realize that you have to earn more if you really wants to enjoy life.
So raise your charge to pay fancy EMI.
(Above Calculations are good cities of Gujarat only and you can count according to living standard and property expense of the respective city of India and EMI will be according to that.)
Friends lastly I would like to point out some outstanding benefits of dentistry.
1. Dentistry is highest paying profession across the world. Somehow it is lacking it's interest in India because we don't value it actually.
2. We are skillful people and we can earn a lot if we really understand the real value of dentistry.
3. India is booming in next 20 years in terms of living standard and per head income along with paying capacity of individuals. The way we are developing if we really think something creative we will be a millionaire in coming years.
4. Esthetics and smile designing is really a very well revenue generating branch and we can earn a lot out of it. All major cities have demanding clients for that.
5. Implantology has really made dentistry a bit revolutionary revenue generating branch and I am sure in next 10 years all of us will be implantologist.
Advice for seniors.
My sincere advice to seniors that please raise your charges first as after few years of experience we have a big client base and in fact, they will be happy to pay us more provided we charge more. We have to look for juniors also as we were also juniors at one time.
Till we don't raise our charges how they can take initiative?
So let's take advantage of seniority for patients and also take initiative for wonderful future of dentistry.
Advise for juniors.
You have a wonderful span of 20+ years and if you learn from our mistakes you can easily make more money out of it. Learn new technologies, new systems and try to work in a more predictable and different way and earn more. We didn't guide by others. You have some wonderful seniors to guide you.
Be different and grab the opportunity.
Friends,
We just need to hold hands of each other and should grow together and need to think about why we didn't raise our charges.
Still, we have a wonderful time for future.
Please be unite, arrange some meetings in your area or city, discuss points and decide some minimum charges for all dental treatments with keeping everything in mind and earn together.
LET'S UNITE AND RAISE THE BAR OF DENTISTRY AND LET'S MAKE EVERY DENTAL SURGEON MILLIONARE..!
Tried to motivate you all and still in some points I may be right or less right.
Thanks,
Previous
Next